2 - Game concept
2.1. The Manager
As you open your Gym, the Player receives its "Manager" title as a NFT. Every action in the game will contribute to raise Player progression. Constiuted of Experience earnings and expenses are stored in this Non-Tradable NFT. It represents the Player's profile page.
2.2. The Gym
Both the starting point & central place of the game. As a Manager you are entitled to hire new fighters, select trainers to make your fighters' stats grow, but also improve the equipement in your gym.

Every gym possesses a certain number of slots at first, new slots can be gained through the gain of Experience. The Gym cards can be considered as a "Land" asset's type on which other cards ca be added (Trainer, Equipement for the Gym or fighter) to upgrade the possibilities of the gym. Gyms can istself evolve through the Manager's system allowing users to expand it through the unlocking of slots with Experience. A player can multiply the number of Gym he owns.

Gyms possess primary stats representing the three main MMA's schools (Striking, Grappling, Wrestling) randomly attributed when created. The fighters will benefit from those stats as per their affiliation to the gym and the fighting education dispensed.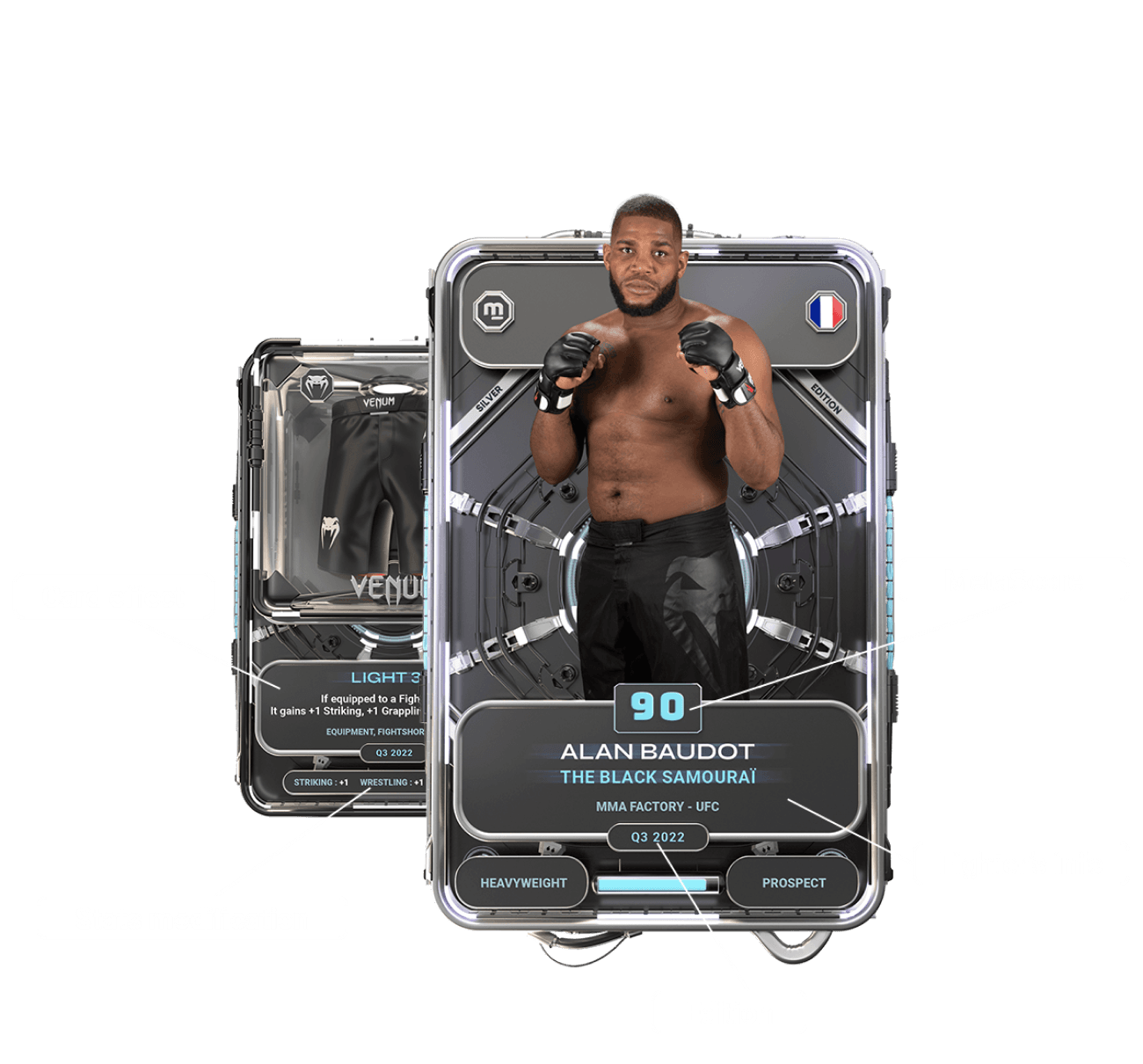 2.3.1 Fighter Cards
The main asset in MetaFight is the Fighter cards. Each MMA Fighter card depicts a unique MMA Fighter, and NFT, available in all 5 of the rarity classes: Bronze, Silver, Gold, Legendary, and Unique.
| | |
| --- | --- |
| Total supply per edition | 511 |
| | |
| --- | --- |
| Bronze | 350 |
| Silver | 100 |
| Gold | 50 |
| Legendary | 10 |
| Unique | 1 |
Through the use of Bonus cards, the fighters may evolve in your gym. They can grow stronger in a particular fighting aspect or adopt a full-around style. It is up to you to give them the path to walk on.

New editions will be published every year as well as for the highlights in a fighter's career (retirement, belt catch or loss, moving organization).
Each Fighter card when entering your gym holds no stats.
It can gain Primary stats (Striking, Grappling, Wrestling), Secondary Stats (Fight IQ, Stamina, Speed, Explosiveness, Strength, Suppleness, Mental, Congestion) and Special Effect attributing exciting and strategic aspects.

It can gain primary stats through the evolution of the Player's Gym or Trainer cards. Secondary stats and Special Effect can be added to the fighter through the use of Equipment cards.
2.3.2. Bonus Cards
Bonus cards boost Fighter cards with specialized skills or attributes such as increased power, stamina, or special MMA skills or effects. Bonus cards depict aspects of the entire MMA ecosystem, including Gyms, Trainers and MMA Sponsors. Every element of the MMA game is expressed through these Bonus digital cards and offer players the ability to custom craft their Fighters, augment their performance, and to collect additional MMA-related NFTs.
| | |
| --- | --- |
| Total supply per edition | 511 |
| | |
| --- | --- |
| Bronze | 350 |
| Silver | 100 |
| Gold | 50 |
| Legendary | 10 |
| Unique | 1 |
Bonus card regroups:
・ Equipement Cards
・ Outfit
・ Training
・ Trainer Cards
・ League Cards
・ (Organization Cards)
These cards will impact the statistics of the attached fighter when paired with him.
2.4. The Fight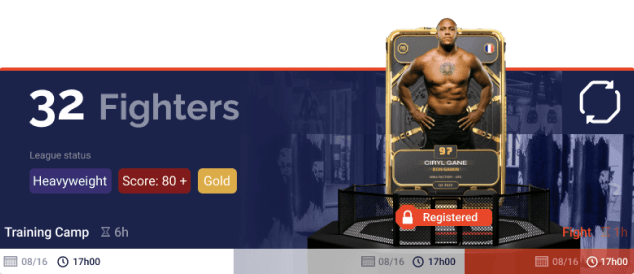 2.4.1. Introduction
Players may register Fighter cards into any available, qualifying contest to participate in an exciting match and to compete for rewards. Based on the contest result, the winning player will receive a reward in points.

Enrolling Fighter cards into individual, 1v1 matches, offer an instant match result versus another player's Fighter card. Rewards, in the form of Points, are awarded to the winning player.

After a 1v1 match, the player's Fighter card incurs an additional recovery time before it may be entered into another match or league. Recovery times are intended to simulate the rest and recuperation period necessary for real MMA Fighters to convalesce after a match.

Players may also choose to enroll their Fighter cards into Leagues. League play is composed of a succession of fights over time and multiple opponents, to compete for rankings and their associated rewards.

Given all of these factors, including chance, every Fighter card holds at least some chance of winning versus stronger competitors in match or league play.
2.4.2. League Creation
Entries into league play are governed by specific qualifications for entry, offering a large variety of unique and competitive gameplay. Leagues can be created around the following criteria:
・ Length of play
・ Rewards
・ Restrictions around card attributes.*
*Leagues based upon Fighter card attributes restrict entry to only those Fighter cards sharing a similar rarity, score, edition, weight category, etc., as stipulated in the league description.

These criteria unlock the opportunity to match the largest number of Players in competitive matches according to Players' desired time investment. The varied options for leagues also factor into the size and scale of rewards available to Players competing in each league. Leagues requiring a longer duration of time to play also involve a longer lock time of a Player's Fighter card. As a result, higher rewards will be made available to entice players to longer commitments of time.
2.4.3. League Play
Each Fighter card enrolled in a league will be "locked" according to the league's length and cannot be used in any other contests until the league ends. Although only one Fighter card per player can be placed in any league, there is no limit to the number of leagues a player can enroll in using other Fighter cards in their possession.

Leagues run for a specified number of hours, days or weeks. Players will be able to register a fighter card in a qualifying league as soon as it is available for registration on the platform. The registration phase ends when either all available slots in a league are full or when the first match has begun if league rules specify a defined start date and time. AI Bots will be used to fill any remaining spots if a League does not completely fill with other players.

The number of participants in any league is determined by its specific rules. Leagues may consist of 8 to 128 players, or more, according to the type of league. For many short-term leagues, league creation will be sequential; once one is fully registered, a similarly styled option will be offered in its place. The lengths of individual leagues will vary depending upon enrollment size. League times can vary from as little as one hour to leagues running for weeks, or months.

Initially, all leagues will be conducted in a "Knockout Tournament" format. More complex league formats and rules will be introduced as the platform evolves.
2.4.4. Fighting Algorithm
The algorithm has been thought to recreate the proceedings of a real fight. The fight feedback is based over time, the player can watch the event following one another in live or in fast forward.
Each fighter has a Life Point count at the beginning of the fight. The fight itself is divided into 3 rounds during which 24 subsections succeed the previous. During a subsection one contender attacks the other in a randomly selected fighting style (Striking, Grappling, Wrestling), the attacker can either land a "hit", a "miss" or " blocked" blow. In a case of a miss or blocked blow, no damage is suffered by the defender. In the case of a hit, a move is selected among the fighter's hit pool (all the moves/techniques a fighter possesses); the most common moves, having the higher chance to appear, deal standard damages to the opponent's life point count. With lesser chances to appear, the special and K.O./submission moves deal significant damage for the first and end the fight for the second.

The fight is over once one of the contenders have no more life points, suffer a K.O./submission move, either at the judges' decision.
2.5. Rewards
Each participation in a league grants reward, the distribution is made in descending order based on ranking; the longer and harder a league is, the higher the rewards.

Two types of rewards exists:

Main rewards:

Most frequently obtained
・ NFT: Fighter or Bonus card,
・ Crypto: CAPS in a first phase,
・ Points: Count represents the rank into the leaderboard, the main reward in the league.
Secondary rewards:

Some leagues may have special rewards during a limited time: merchandising, sponsor's products, invite to events, etc…
2.6. The Marketplace
Players initially visit the Marketplace, a hub where players can acquire and exchange digital cards in one of three exciting ways: purchasing Booster Packs, Trading with other players, and Auctioning for high-value Fighter and Bonus cards.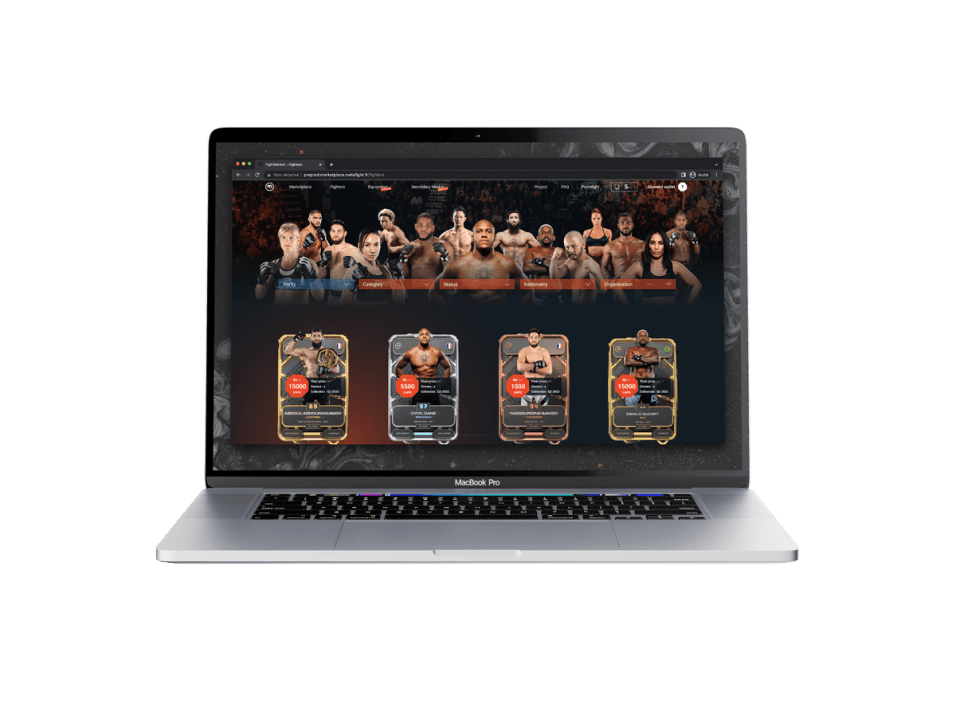 Booster Packs

When purchasing Booster Packs, players receive three randomly selected cards. Each Booster Pack contains either individual Fighter cards, Bonus cards, or a combination of both. Purchasing Booster Packs is the fastest way for players to build a stable of Fighters to enter individual contests and leagues to compete for rewards.
Booster Packs contain primarily Bronze, Silver, and Gold level cards. However, one-half of all Legendary-class minted cards will be available through Booster Pack purchases, adding an exciting element of chance to receive rare and valuable cards via these distributions.

Trading

Players may trade Fighter cards with other players in the Marketplace. This aspect allows players to collect and trade for their favorite MMA Fighters, diversify their holdings, and build a customized team to compete in multiple events and leagues.

Auctions

For players seeking the most exciting action, the highest value cards, and the greatest possible rewards, bidding on Fighter and Bonus cards in The Marketplace auctions is the place to go. Auctions are the only way to acquire the rarest and most valuable Unique-class Fighter and Bonus cards. Additionally, players will access the other half of the Legendary-class minted cards not available in Booster Packs through these auctions.
4 - Tech architecture
4.1. What is Immutable x
Immutable X is a layer 2 scaling solution for Ethereum that uses sharding to increase the number of transactions that can be processed on the network. It was developed by the team behind the crypto wallet provider, Immutable, and is designed to be a more efficient and cost-effective way to handle high volumes of transactions on the Ethereum blockchain.
Immutable X's main advantages are its ability to handle high volumes of transactions and its cost-effectiveness. The use of sharding allows for a much larger number of transactions to be processed simultaneously, which can help to alleviate the scalability issues that are currently faced by the Ethereum network. Additionally, because Immutable X is a layer 2 solution, it doesn't require changes to be made to the underlying Ethereum protocol, which can help to keep costs down.
4.2. Lower transaction fees
No transaction fees. High transaction fees are a common problem. The global NFT market operates primarily on the Ethereum network, which has seen a marked increase in the number of transactions. This substantial increase in activity has led to an inevitable rise in transaction fees of $30 to $150, on average.
Faster confirmation times and improved security
Increased, simultaneously-running transactions. A single blockchain indeed cannot be relied upon to physically or economically facilitate the ever-growing numbers of transactions in a rapidly expanding digital space. Future projects to be developed upon the blockchain will undoubtedly require more significant, faster, and more complex transactions. Therefore, new, innovative, and smartly allocated blockchains that employ customizable, designer-style characteristics need to be developed and utilized. Immutable X provides additional security features such as fraud proofs, which can help protect dApps from malicious attacks and improve overall security
4.3. Improved developer experience
Immutable X provides a more user-friendly smart contract development environment, which allows developers to more easily create, test and deploy their smart contracts, without the need for specialized knowledge.
Immutable X allows for the creation of non-fungible token (NFT) marketplaces that use the same smart contract and the same code base as Ethereum, but with the benefits of Immutable X's scaling technology.
4.4. Partner's projects
Immutable X announced partnerships with several projects and companies in the crypto gaming and entertainment industries, such as Gamestop, Disney/Marvel/Pixar, Rarible, Cross The Age, Immortal Game and Illuvium.
5 - Market overview
5.1. NFT Definition
NFT is defined as Non-Fungible Token. An NFT is a cryptographic product or asset on a blockchain embedded with unique identification codes. These identification codes represent a digital certificate of authenticity for the digital product, which may be a video, image, or gif. These certificates grant a value to a specific digital product.
5.2. NFT Sector Review
2021 has been a lively year in the NFT sector. The number, size, and scope of NFT-based projects have increased significantly over the course of the year. . With resistance to widespread acceptance fading, both in the media and among the general public, NFT adoption and popularity continue to grow.
Fueled by relentless advertising in mainstream media, the public's awareness of and participation in cryptocurrency-related activities and products have surged. Massive advertising campaigns in major media markets have made many cryptocurrency companies a household brand presence. High-profile sponsorships during global events such as Crypto.com's Formula 1 Racing and the UFC, and FTX's new partnership with Major League Baseball, have injected the blockchain world into the mainstream consciousness of consumers around the globe. Indeed, half of all commercials during the NFL's Superbowl LV were crypto or NFT-related this past year.
The unexpected rise of Sorare and many lesser-known companies have contributed to making the blockchain, cryptocurrency, and the NFT markets look more robust in the public eye. The timing of the launch of our product, MetaFight, could not have been any better. While the market is still in its infancy, it is driven by increasingly commercial-savvy and intriguing technologies designed to create captivating and tantalizing projects. MetaFight is one of those exciting new products.
The NFT market is still an emerging market. Over the past year, 2.5 million unique crypto wallets have already purchased an NFT. This activity represents a minimal penetration of the overall market of internet users, or just .05% of the over 495 billion people regularly online. Indeed, it leaves much room for explosive growth and massive profitability in the years ahead.
5.3. MMA Sector Review
With over 550 million active MMA fans, and 1.2 billion people influenced by this fascinating sport in one shape or another, the potential market for MetaFight is enormous. Unlike other sports, like soccer, American football, or basketball, MMA sports enjoy a truly global reach, extending to 5 continents. Additionally, MMA operates year-round, unlike other, more seasonal-related sports. This aspect of sport offers the opportunity to engage with players every week of the year. MMA has been the fastest-growing sport globally for many years and continues to increase its popularity and commercial influence. With this intense global reach and high-growth rate, the future of MMA appears quite optimistic for years to come. Now represents the ideal time to leverage this expanding market and innovate products and services that offer custom-crafted value and appeal to its audience.
5.4. MMA Games Market
The number of games approaching MMA is minimal compared to other sports (Football, Basketball, Hockey, Soccer, Tennis). The only substantive MMA game currently offered or operating is a product provided by EA Sports.
Even in more mature, sports-related gaming markets such as soccer, the market has continued to expand with new concepts and offerings. These have managed to not only coexist but to expand the size of the market itself.
In the MMA sector, the selection of video games that comprise the market remains limited. This scarcity of products is despite a rapidly growing audience and a likely overlooked demand for these types of interactive products.
Additionally, given the marked increase in demand for NFTs combined with rapid growth in the world of MMA, our product, MetaFight, appears well-positioned to capitalize on both of these growing, popular interests. The opportunity for future development of products and services to accommodate this combined audience represents an underdeveloped and untapped market that MetaFight is poised to capture.

Whether your interests lie in the exciting sport of MMA, the creative world of NFTs and blockchain gaming, or both, MetaFight is the perfect project, game, and investment for you. Join us aboard this exciting experience & get the card of your favorite MMA Fighter, and put them in the ring to compete against your online friends for thrilling action and enticing rewards!